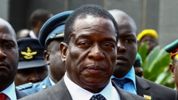 Zimbabwe's former vice-president, whose sacking led to the shock resignation of long-time leader Robert Mugabe, will be sworn in as the new president on Friday.
Emmerson Mnangagwa, who fled to South Africa two weeks ago, will fly home today.
His dismissal led the ruling party and the military to intervene and force an end to Mr. Mugabe's 37-year long rule.
The news sparked wild celebrations across the country late into the night.
The announcement that the 93-year-old was stepping down came in the form of a letter read out in parliament yesterday, abruptly halting impeachment proceedings against him.
It was read by the speaker of the house.
The resignation triggered celebrations in the streets.
A spokesman for the ruling Zanu-PF party says Mr. Mnangagwa, will serve the remainder of Mr. Mugabe's term until elections, which are due to take place by September 2018.
The state-run Zimbabwe Broadcasting Corporation confirmed that his swearing-in ceremony had been scheduled for Friday.