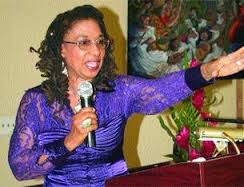 Well-known artist, painter, author and musical composer Valerie Belgrave is dead.
A release from a close family friend says Mrs. Belgrave passed away at her home on tuesday in the presence of relatives.
The release says she had been ailing for some time.
Mrs. Belgrave graduated from Sir George Williams University in Canada…now called Concordia University with a BA in painting and literature and spent her lifetime expressing herself through novels, music, batik and painting.
Mrs. Belgrave wrote "Ti Marie" and two other novels, along with the children's book "Children of the Steelpan" and the autobiographical "Art for the People".
She was a prolific artist and some of her works are on show internationally and throughout the caribbean.
Mrs. Belgrave made an impact on caribbean fashion through her batik designs.
Funeral arrangements are yet to be announced.