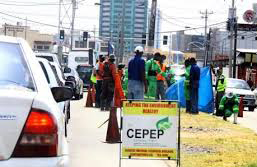 Massive layoffs are expected after a decision by the CEPEP company to remove contractors who have spent more than three years in the programme.
In a statement the CEPEP company the move will also affect ninety percent of the contractors who have been operating within the system for more than five years.
The company says this is being done because over the past years the programme had deviated from the principles of transparency and uprightness.
CEPEP says most of the affected group of contractors have six teams of ten persons and have earned within the period more than three million 500 thousand dollars per contractor in management fees.
According to the company, some of the contractors had signed new contracts in the weeks leading up to the last General Election, and in some cases on the very day.
But former Line Minister for CEPEP Roodal Moonilal accuses the CEPEP company of engaging in what he terms cheap and malicious tactics.
The Oropouche East MP says the company's smoke-and-mirrors are again evident in elaborate and costly press advertisements.
Yesterday Dr. Moonilal said the CEPEP statement is riddled with deceptive and fraudulent arguments and designed to cloud the substantive issues.
Dr. Moonilal advised CEPEP management to get its facts right.
CEPEP has assured that its overall level of employment would be maintained but reminds that the intent of the programme was to provide short term income support for contract emplyoyees while upgrading their skills via training.