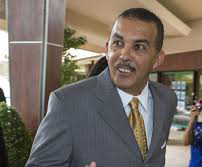 President Anthony Carmona is being told to remove those who sit on the Elections and Boundaries Commission.
The call comes after a court ruling last week said the EBC acted illegally when it decided to extend the voting time in the September General Election by one hour in Trinidad.
Opposition MP Dr. Roodal Moonilal says the ruling by Justice Mira Dean Amorer found that the uncontrollable weather on the day of the election did not confer on the EBC the power to direct that the law be broken.
Dr. Moonilal says the declared illegal function of the EBC must lead to a sharp crisis of confidence in the commission.
The ruling came out of the election petition filed by the United National Congress, which challenged the results of the election in 5 constituencies.
The judge dismissed the petition, but said the EBC was wrong to change the time.
Meanwhile, Couva North MP Ramona Ramdial is again calling for help to ease the fears of her constituents.
Ms. Ramdial says the government has to do what is necessary to assist police in the fight against criminal elements.
She said several groups have been calling for more to be done in dealing with the crime situation.
Ms. Ramdial was speaking with reporters yesterday.