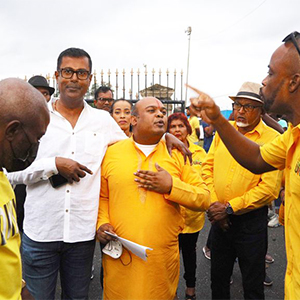 Meanwhile outside the venue… a verbal clash between an ex-Caroni worker who is also a Pundit, supporters of the UNC leader and a prominent attorney.
The incident occurred while the media was interviewing Pundit Donny Samlal.
According to reports Pundit Samlal was at the UNC's National Congress in Couva seeking signatures for a petition which calls for the removal of the party leader.
The UNC leadership rejected the petition, which had garnered 175 signatures.
Mr. Samlal contended that Mrs. Persad-Bissessar campaigned on the promise that voluntary separation of employee packages of ex-Caroni workers would be settled during her tenure as Prime Minister between 2010 and 2015, but did not deliver on her promise.
He noted that, to date, thousands were awaiting their packages while many had died.
Mr. Samlal said he and others were blocked several times and bullied off the stage as they tried to file the Motion of No Confidence.
However this did not sit well with supporters of Opposition Leader and he was interrupted by a group of Persad-Bissessar's supporters who chanted, "Kamla must stay".
One supporter shouted cut in front of Pundit Samlal to speak to the media while another supporter proceeded to push Mr. Samlal out of the way, which attorney Larry Lalla objected to.
A heated exchange ensued between Mr. Samlal, Mr. Lalla and Mrs. Persad-Bissessar's supporters.
UNC supporters drove Mr. Samlal away all the while pointing hands in Mr. Lalla's face.
Pundit Samlal was unable to continue the media interview.