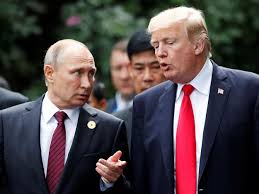 The US has imposed sanctions on 19 Russians, accusing them of interference in the 2016 US Election and alleged cyber-attacks.
They include 13 individuals charged last month by Justice Department Special Counsel Robert Mueller.
Treasury Secretary Steven Mnuchin accused the Russians of "destructive cyber-attacks, and intrusions targeting critical infrastructure".
He said the sanctions would target "ongoing nefarious attacks" by Russia.
The measures are being described in Washington as the strongest action taken by the Trump administration thus far against Moscow.
Five entities including Moscow's Intelligence Services are targeted in Thursday's sanctions.
Also blacklisted is the St. Petersburg-Based Internet Research Agency, which is accused of engineering an online disinformation campaign to sway the 2016 US Presidential Election.
Yevgeny Prigozhin – an Oligarch who allegedly ran the agency and has close links to Russian President Vladimir Putin – and 12 of the agency's staff are also hit by the sanctions.
All 13 were charged in a February indictment by the US Special Counsel, who is investigating allegations that Russia meddled in the US vote to help Donald Trump win.