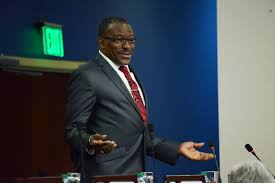 The Trinidad and Tobago government has held talks with senior United Nations officials in a bid to "correct what it calls the misinformation in the public domain' regarding the deportation of nearly 100 Venezuelan nationals.
A statement issued by the Ministry of National Security said Minister Edmund Dillon and Attorney General, Faris Al Rawi, yesterday met with the United Nations Resident Coordinator Richard Blewitt and Protection Officer of the United Nations High Commissioner for Refugees Ruben Barbado.
The statement said both Minister Dillon and Mr. Al Rawi took the opportunity to once again emphasize the fact that the government of Trinidad and Tobago respects the human rights of any person who seeks asylum in Trinidad and Tobago.
It said additionally, the government of Trinidad and Tobago respects the right of any foreign national to voluntarily return to their country of nationality."
The United Nations and the Amnesty International have expressed concern that a number of Venezuelan nationals who had sought asylum in Trinidad and Tobago were deported to the South American country over the last weekend.
The United Nations system said on Monday it was concerned for the welfare of the Venezuelans, some of who had reportedly sought asylum in Trinidad.
Mr. Blewitt is said to have indicated that they were in "contact with the appropriate authorities in Port of Spain to ensure that any person in need of protection will get it without fail".
The Living Water Community a religious based organisation that works with the UNHCR said that it too had received reports of Venezuelans being deported.
Amnesty International in an open letter to Prime Minister Dr. Keith Rowley also expressed concern at the situation.