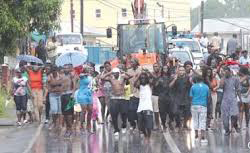 Residents of St. Mary's, Moruga, braved the rains yesterday, and staged a noisy demonstration protest for a community centre and recreational ground in their area.
Residents said they have been petitioning for a community centre for the past decades.
The protest was held a stone's throw away from the proposed site for the community centre near the home of their MP Dr. Lovell Francis and also close to a sign calling for the facilities.
They said pavilion at the recreational ground, which was destroyed ten years ago, was never rebuilt.
One of the demonstrators said the villagers were told while there is money to construct the recreation ground there is none for the center.
They are planning to write to Prime Minister Dr. Keith Rowley on the matter.