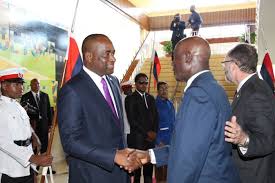 Prime Minister Dr. Keith Rowley tells citizens criticizing his call to assist Dominicans to shut up.
Following the devastation caused by hurricane Maria, Dr Rowley invited Dominican nationals to stay in the country for six months while the country rebuilds.
Some citizens took to social media criticizing the Prime Minister's action. Dr Rowley says the negative comments almost cost the country business.
He says CARICOM importers were upset over statements and he had to appease them not to pull out of doing business with Trinidad and Tobago.
Dr Rowley was speaking with the media at a sod turning ceremony in the Cumuto/Manzanilla district yesterday.
Meanwhile Dominican Prime Minister Dr Roosevelt Skerrit says there is nothing to fear from any of his compatriots who may accept Dr Rowley's offer.
Responding to the negative reactions from some quarters over Dr Rowley's proposal, Dr Skerrit says Dominicans are "exceptionally peaceful."
Dr Skerrit said he would not focus on the negativity as he is seeking to rebuild his country. He said there will always be those who would seek to politicise any issue.
Nevertheless Dr Skerrit said he was grateful to Dr Rowley, the cabinet and the people of Trinidad and Tobago whom he said were exceptional in supporting his country during this trying time.
Dr Skerrit was speaking on CNC3 television yesterday.