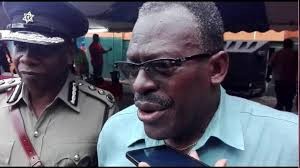 A probe has started into the origins of three lists being circulated on social media.
The lists carry the names and photographs of men said to be members of the "Rasta City" gang.
Yesterday National Security Minister, Edmund Dillon and Acting Police Commissioner Stephen Williams said they are aware of the lists.
But their authenticity is yet to be confirmed.
The lists include the men's names, alias, addresses and their alleged roles in the gang's factions operating in Beetham Gardens and several communities in east Port-of-Spain.
They also include photographs of each alleged gang member, which appeared to be "mug shots" taken when they were arrested by police for various offences in the past.
It has been reported on social media that at the end of the month of Ramadan tomorrow there would be bloodshed.
Commissioner Williams was cautious in giving his assurances.
Yesterday Public Information Officer of the Police Service, ASP Michael Jackman said the lists are sending a strong message to law enforcement.
National Security Minister Edmund Dillon also told members of the media there is a plan, which would include religious leaders.
The Minister was speaking during a walkabout yesterday.