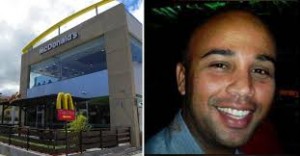 21-year-old Israel Jabarrie Durant has been charged with the murder of McDonald's manager Ashmeed Mohammed.
Mr. Durant is an employee of the Water And Sewerage Authority
Yesterday Mr. Durant, also known as WASA and Barry, of Chaconia Avenue, Coconut Drive, Morvant, went before Chief Magistrate Maria Busby-Earle-Caddle in the Port-of-Spain Court.
He was also charged with possession of a firearm and ammunition and robbing Mr. Mohammed's co-worker of a $900 cellphone during the incident at the restaurant on may 20th.
Magistrate Busby-Earle-Caddle advised police prosecutor Sgt. Rawle Ramharrack to ensure that the homicide detective who investigated the case, provides a summary of the evidence to Mr. Durant's defence attorney within a reasonable time.
The magistrate also suggested that the officer complete the investigative file in the case, which needs to be sent to the office of the Director of Public Prosecutions before a state attorney is assigned to prosecute.
38-year-old Mr. Mohammed, of Vega de Oropouche, Sangre Grande, was at work when he was shot and killed by three men.
Mr. Durant was arrested at his workplace in St. Helena last Thursday.
He has to return to court on August 8th.