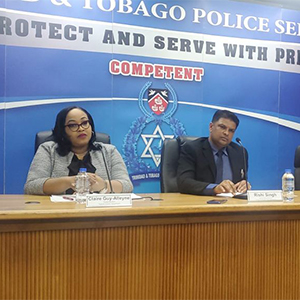 The Head of the Homicide Bureau of Investigations of the TTPS says suspects have been found in relation to the death of 6-year-old Kylie Maloney.
Sr. Supt. Rishi Singh made the announcement during a police media briefing yesterday.
An autopsy yesterday confirmed that Kylie died from a single gunshot wound to her chest.
Sr. Supt. Singh said, last year the police solved 100 murders, of which 75 had been committed that year; translate to a 13% detection rate.
He said gang members are out to make a name for themselves and children are in the line of fire.
Kylie was shot dead after gunmen stormed her relatives' home at Blake Avenue, Sangre Grande, on Sunday morning.
Meanwhile Sr. Supt. Claire Guy-Alleyne calls on parents to exercise caution when exposing children to adults.
Mrs. Guy-Alleyne is the head of the Special Victims Unit of the TTPS.