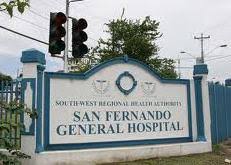 Officials at the South West Regional Health Authority are outraged after pictures of the mother allegedly chopped and wounded by her 15-year-old son, appeared on social media.
The 46-year-old woman's hand was severed in the attack two weeks ago; she remains at the San Fernando General Hospital.
The SWRHA, which has responsibility for the hospital, is not pleased wants to know who and why the photos were leaked.
Photos of the severed hand and gaping wounds to her head, face and shoulder, were widely circulated on Facebook and Whats App over the last weekend.
The authority says it is now investigating what appears to be breach of patient confidentiality with the leak of the photographs.
The SWRHA says it is very concerned that the pictures were being circulated of the 46-year-old woman, who is still warded at the San Fernando General Hospital.
The authority says it is guided by the Patient Charter of Rights and Obligations and recognises its first and foremost duty is to its patients.
According to the SWRHA this includes protecting patients' privacy and guaranteeing the confidentiality of medical care.
The SWRHA says it has launched an investigation in order to ascertain the details surrounding the release of these images and will treat with the matter appropriately.
The boy accused of chopping his mother was released last Wednesday into the custody of his father.
No charges have been laid against the teenager who is said to have brutally attacked his mother because she scolded him about his schoolwork and took away his cell phone.
The incident occurred on April 19th at the family's south home.