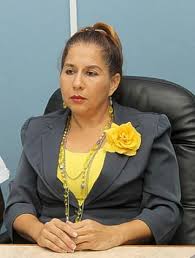 Not accurate…that's the response from Tobago businesses to the Chief Secretary's claims that they did not want to be part of the solution to the seabridge problems.
Yesterday, Chief Secreatry Kelvin Charles said last April he suggested that a commitee be formed to find solutions to the problems on the seabridge, but the private sector did not respond.
However on the Morning Show on i95.5fm yesterday, Dianne Hadad of the Tobago Chamber described the Chief Secretary's statement as inaccurate.
She said that meeting was dealing with the then departing ferry, the Galicia.
According to Ms. Hadad, the private sector had already given its proposals, which included re-negotiating the arrangement with the owners of the Galicia.
Further Ms. Hadad said the Chief Secretary needs to stop playing the blame game.
She denied another claim made by the Chief Secretary, which said there was private sector confidence in the ability of the Works Minister, Rohan Sinanan.
Ms. Hadad said the private sector has been helpful in many ways and the ongoing problems on the sea-bridge could have been avoided.