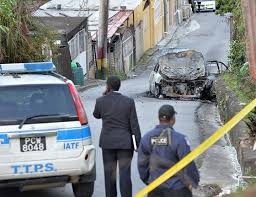 More officers have been put on patrol in Laventille following the shooting and firey deaths of teenager Joshua Andrews and Devon Hernandez.
The two were killed in Troumacaque Road on Monday afternoon.
The vehicle driven by 33-year-old Mr. Hernandez came under gunfire and subsequently exploded, killing him and 15-year-old Joshua.
Police say a team consisting of over 150 officers went into the community yesterday and carried out house-to-house searches.
Police were said to be searching for illegal arms and ammunition.
Several people were detained.
The National Security Minister has vowed to find the killers of the two.
Joshua and two other passengers attended the Morvant Laventille Secondary School.
Minister of Education Anthony Garcia visited the school to show solidarity with the students and teachers of the school.
A relative of Mr. Hernandez told reporters outside the Forensic Science Center he was not involved in any wrongdoing and did not deserve to die in that way.
The relative said Mr. Hernandez was always warned against working that route.
At first it was stated that Mr. Hernandez may have been the target, but police are now looking at other theories.
The tragedy was linked to the killing of Andrew Pereira in Laventille last Sunday.