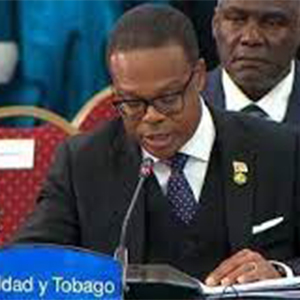 Minister of Foreign and CARICOM Affairs Dr. Amery Browne assures his government is doing all it can to repatriate Trinidad and Tobago nationals stuck in conflict zones.
According to a Human Rights Watch report, more than 90 such persons, including 56 children are stuck in deplorable and life threatening conditions in camps run by the Syrian democratic forces.
This country's government is being pressed by the group to rescue its nationals.
At a news conference yesterday, Minister Browne addressed the issue.
Minister Browne said the repatriation of Trinidad and Tobago citizens is engaging the government's attention but it comes with it it's own set of hurdles.
on Tuesday the Human Rights Watch pleaded with the government to act on bringing back T&T nationals who want to return.
Associate Crisis and Conflict Director, Human Rights Watch Letta Tayler said talk is not enough.
Yesterday Ms. Tayler admitted countries are naturally concerned about security when bringing persons home from the Middle East.
However, she said there might be a higher price to pay if nationals are not repatriated.
The 90-plus Trinidad and Tobago nationals are among 42,000 other foreigners from about 60 countries being held at Islamic State of Iraq.