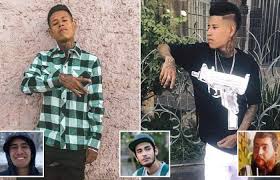 A Mexican rapper has confessed to disposing of the bodies of three missing film students by dissolving them in acid.
Christian Palma Gutiérrez, better known as QBA, said he had been paid 3,000 pesos a week by the Jalisco New Generation drug cartel.
Investigators say he told them it had not been the first time he had disposed of bodies in this way.
The rapper will be charged with aggravated kidnapping.
QBA reportedly told investigators a friend had recruited him to work for the cartel three months before his arrest.