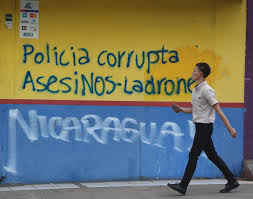 Nicaraguan police have released dozens of students and lecturers arrested in protests triggered by planned changes to the social security system.
Some students said they had been beaten and tortured by police while in custody.
The claims could not be independently verified.
Images on social media showed some, visibly distressed and with their heads shaved, as they were released.
At least 25 people are reported to have died in days of violent protests.
The unrest started last Wednesday when hundreds of people, mainly pensioners, took to the streets of the capital, Managua, to protest against changes to the country's social security system.
Protesters and some journalists covering the demonstration were set upon by men wearing motorcycle helmets who beat them with metal pipes and electric cables.