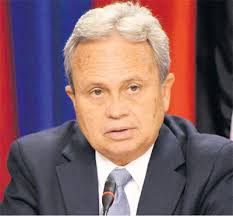 Finance Minister Colm Imbert signs the first tranche of a policy-based loan agreement in the sum of US$180 million.
The loan was obtained from the Corporación Andina de Fomento Development Bank.
The total loan of US$300 million will be used for the implementation of the programme to support government's medium-term fiscal consolidation strategy—phase II.
Government says the loan was taken to boost potential growth and reduce the economy's vulnerability to external fluctuations and volatility of external terms of trade.