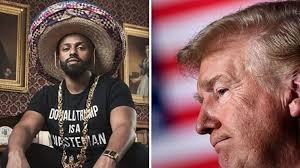 The Mayor of a major British city is mincing no words in expressing his feelings about U.S. President Donald Trump's impending visit to the United Kingdom.
Sheffield Lord Mayor Magid Magid says President Trump is "banned" from entering his city, and he has declared July 13th — the day the President is due to arrive in the U.K. for his state visit — as "Mexico Solidarity Day."
Mr. Magid announced his decision during a Sheffield City council meeting on Wednesday.
He wore a sombrero "in solidarity" with Mexico and was also wearing ceremonial mayoral chains and a black t-shirt that read, "Donald Trump is a wasteman," which is a slang term that refers to someone who lacks merit and maturity.
The Mayor has also invited members of Sheffield's Mexican community to perform traditional dances during the meeting.
As the BBC has noted, Mayor Magid does not have the power to ban someone from Sheffield, one of the U.K.'s largest cities with a population of about 570,000.
However the city council says it could "through a collective, democratic debate and process, agree to condemn the views of an individual or organization."
It's unlikely that Mr. Trump will visit Sheffield during his upcoming U.K. trip.