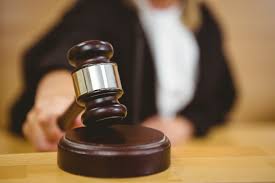 A magistrate in St. Vincent and the Grenadines has sentenced a Pastor, his wife and daughter to four years in prison after they were found guilty of pouring hot liquid on a man following what they described as a "spiritual warfare" two years ago.
Senior Magistrate Rickie Burnett yesterday imposed the sentence on Nigel Morgan, his wife Althia, and their 23-year-old daughter, Crystal, following the assault on Cuthbert "Mafia" Victory, which left him with burns to his back, shoulders, chest and face.
Senior Prosecutor Adolphus Delplesche had argued that the trio planned the assault on Victory on April 9th, 2016.
A video of the incident, which was widely circulated on social media, showed the older Morgans holding Mr. Victory while their daughter pours on him what was later revealed to be a hot liquid.
The video was not tendered into evidence, reportedly because police did not secure a deposition from the person who did the recording.
In her defence, Crystal Morgan told the court that she was feeling ill and was about to make a cup of tea when she heard noises that suggested that her parents were under attack.
She told the court that even up to the point of giving evidence she did not know who it was that she had hurt.
In their defence, the older Morgans presented themselves as having been under attack by Mr. Victory, a 39-year-old construction worker, who had gone to visit a friend living next door.
However, they admitted in court that they had attempted to use olive oil on the man while, praying for him even though he had not requested any spiritual help.
But the state's main witness, Clint Antoine, who was the Morgans' neighbour at the time of the incident, told the court that the Pastor and his wife had been engaged in an exchange of words with Mr. Victory.
On their last court appearance on April 13, the Morgans hired their own camera crew to photograph and videotape reporters covering the court case.