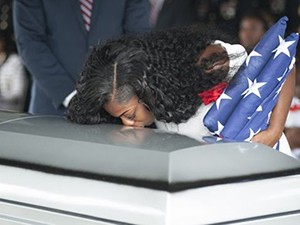 The Islamic State group has published a video purporting to show an ambush in Niger in which four US soldiers were killed last October.
It is not clear why the release of the video – via an IS outlet on messaging app Telegram – was delayed until now.
The video consists mainly of raw footage, including images apparently filmed using a helmet camera belonging to one of the soldiers.
The video seems to suggest that IS militants carried out the attack.
The deaths became a major talking point in the US when the widow of one of the soldiers, Army Sgt. La David Johnson, said President Donald Trump had made her cry during a condolence phone call by suggesting, her husband "knew what he signed up for".
The president later said Ms. Wilson's account of the call was "totally fabricated".
Sgt. Johnson's body was initially located two days after the ambush, while the bodies of the other three soldiers were discovered on the same day they were attacked, on October 4th 2017.