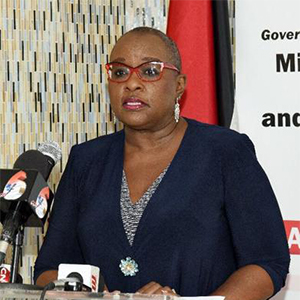 The search is continuing for the Galil Assault Rifle reported missing from the Defence Force base in Chaguaramas.
The Trinidad and Tobago Regiment says it is aware of erroneous reports, which say the gun was found.
The Regiment says, these reports are from numerous unaccredited media sources as well as various social media platforms.
It reveals the rifle remains unaccounted for at this time.
In a release last evening the TTR said, investigations are still ongoing in conjunction with the Trinidad and Tobago Police Service at this time, and information will be forthcoming as the investigation progresses.
The Regiment said, it remains committed to guarding and defending Trinidad and Tobago, in order to ensure the safety and security of the citizenry and this great nation.
Meanwhile…government tells parliament of a monetary reward for information on the missing Galil Assault Rifle.
Leader of Government Business Camille Robinson-Regis also confirms, that a probe into the matter is being carried out by a joint team of the Trinidad and Tobago Police Service and the TTDF.
In the House of Representatives, speaking on behalf of the National Security Minister, Mrs. Robinson-Regis said, yesterday the matter continues to be under probe.
She repeated there is a 75 thousand dollar reward for information on the missing galil rifle.
Minister Robinson-Regis was responding to Oropouche East MP Dr. Roodal Moonilal during the urgent questions segment of the lower house.