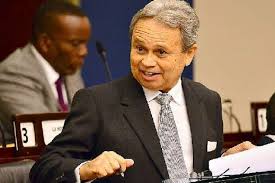 Finance Minister Colm Imbert is set to deliver government's 2018 Fiscal Package in just a few hours time.
There is heightened concern among members of the public, following talk of continuing tough economic times, telegraphed by government in the last week.
Government sources remain tightlipped on speculation.
In his first 2015-16 budget, Minister Imbert projected removing the fuel subsidy over 2015-2017 and started hiking fuel prices since.
In the 2017 budget, he had warned other transfers and subsidies to be examined included complete elimination of fuel subsidies and reduction of transfers to utilities.
The Finance Minister had also noted chronic issues and debts in WASA and TTEC, which have heightened speculation that the 2018 package could include transfer reductions to utilities — and whether this may impact rates ahead.
Meanwhile head of agricultural society Dhanoo Sookoo says she is hoping government pays special attention to farmers.
On the morning edition program today Ms. Sookoo said money is being spent but there is nothing to show for it.
Ms. Sookoo further added that the ministry has the tools but they are not being used.
And president of the Chaguanas Chamber of Commerce Vishnu Charran hopes the 2018 budget will feature incentives to the manufacturing sector in promotion of local businesses.
Mr. Charran is quoted in today's Express newspaper as saying in light of the import substitution, promotion of local manufacturers is key to crea­ting jobs and adding wealth to the country.
He is hoping for major incentives to the agricultural and manufacturing sectors.