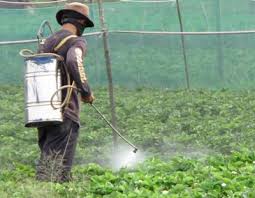 An appeal for farmers to be more careful when spraying harmful chemicals.
The call comes following an incident involving chemical fumes on the compound of the Rio Claro West Secondary School.
Up to yesterday there were reports that one student remained hospitalised.
35 pupils were rushed to hospital on Wednesday after falling ill.
The pupils complained of nausea and respiratory problems after a chemical was sprayed close to the school.
Yesterday president of the Trinidad and Tobago Unified Teachers Association Lindsley Doodhai confirmed one student was still being monitored.
Councillor for Rio Claro north Hazarie Ramdeen is quoted, as saying there was chemical spraying in the area, which caused many children to fall ill.
Meanwhile TTUTA responds to a suggestion that parents bear the cost of school furniture damaged by students.
The idea was put forward by Opposition Senator Roger Samuel during a finance and variations committee meeting on Wednesday.
Mr. Samuel lamented the state of school furniture in some schools saying government has been paying exorbitant amounts of money to replace broken and defaced desks and chairs.
Mr. Doodhai agrees.
Permanent Secretary of the Ministry of Education Angela Sinaswee-Gervais responded to Mr. Samuel saying furniture today is not built as strong and reliably as in the past.