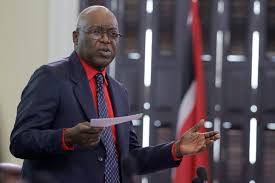 Chief Secretary Kelvin Charles has broken his silence on the filing of property tax documents and the issues plaguing the Sea Bridge.
The two matters he says are proving to be a source of worry for many Tobagonians.
In a public address last night Mr. Charles apologised for the hardships being experienced by users of the Sea Bridge, adding his administration has been working behind the scenes to find solutions.
The Chief Secretary said plans are afoot to bring long-term relief to commuters.
Chief Secretary Charles also announced additional centers for property owners still needing to file their property tax forms.
The options are in addition to the extended deadline of June 5th announced yesterday by Finance Minister Colm Imbert this was Mr. Charles' first address to Tobagonians as Chief Secretary.