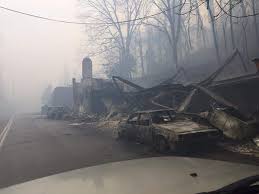 Two teenagers face charges of aggravated arson in connection with a deadly Tennessee wildfire that claimed the lives of 14 people and injured 175.
This, according to director of the Tennessee Bureau of Investigation, Mark Gwyn.
The fire began in late November and spread to Gatlinburg, Tennessee.
4th District Attorney General, James Dunn says additional charges are being considered, including the possibility of seeking a transfer to adult criminal court.
According to officials, residents and visitors to the resort-heavy area were among the dead.