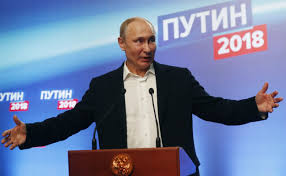 Vladimir Putin has extended his grip on Russia for another six years after an overwhelming victory in Sunday's Presidential Election, a result that was never in doubt.
With 99.8% of the votes counted, Putin won with 76.7%, according to Central Election Commission data.
It means Putin will rule until 2024, when he will be 71 and obliged by law to step down.
Mr. Putin sailed to victory against the backdrop of wall-to-wall support from state media and with no serious challenger.
His nearest rival, Communist Party candidate Pavel Grudinin, won 11.79%, while Ultra-Nationalist Vladimir Zhirinovsky took 5.7%.
His fiercest opponent, Alexei Navalny, was barred from the race.