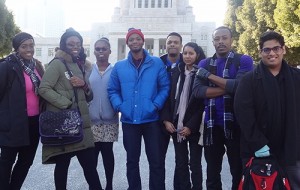 Eight UWI students are currently in Japan participating in a one-month exchange programme at Sophia University. The initiative, funded by the Japan-based Association for Promotion of International Cooperation (APIC), seeks to promote international cooperation and deepen mutual understanding between Japan and various countries.
Two students were selected from each of the UWI's four campuses and together they are spending the weeks attending courses in Japanese business and economy, media and contemporary issues in Japan and Japanese language.
The students are Shekira Thompson and Quinn Weekes from the Cave Hill Campus in Barbados; Dane Miller and Raphaella Colahar from Mona Campus, Jamaica; Denecia Campbell and Ricky Haynes from the Open Campus Sites in Monserrat and St. Vincent and the Grenadines and Kimberly Browne and Aaron Sookram from the St. Augustine Campus. The students left for Japan on January 3rd , are are expected to return to their respective countries on January 30th .