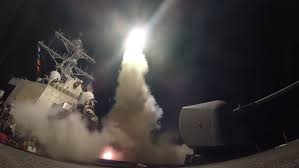 The US has carried out a missile strike against a Syrian air base in response to a suspected chemical weapons attack on a rebel-held town.
59 Tomahawk Cruise Missiles were fired from two US Navy ships in the Mediterranean.
The Syrian army said 6 people were killed.
It is the first direct US military action against forces commanded by Syria's president.
The Kremlin, which backs Bashar Al-Assad, has condemned the strike.
It comes just days after dozens of civilians, including many children, died in the suspected nerve gas attack in the town of Idlib province.
Speaking from his Mar-a-Lago Estate in Florida, last night Mr. Trump said he had acted in America's "vital national security interest" to prevent the use of chemical weapons.
On the orders of President Donald Trump, Navy destroyers USS Porter and USS Ross fired dozens of cruise missiles in an airfield in Western Homs province.
According to the Pentagon they targeted aircraft, aircraft shelters, storage areas, ammunition supply bunkers and air defence systems at the Syrian government-controlled facility.