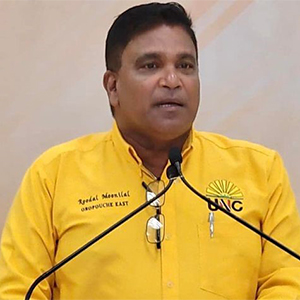 The United National Congress is not involved in human trafficking, this from Opposition MP Dr. Roodal Moonilal and he is calling on Prime Minister Dr Keith Rowley, or anyone with such information to come forward.
In the Parliament last week, Dr. Rowley spoke of a 2022 US Human Trafficking Report, which links particular members of the UNC with human trafficking.
Former Government Minister Devant Maharaj under the UNC also confirmed the statement of the Prime Minister.
Yesterday Dr. Moonilal said anyone with information should take the matter to the police.
He also called on Police Commissioner Erla Christopher to say if any such probe has been launched against members of the UNC in connection with human trafficking.
Mr. Maharaj, who served in the People's Partnership government, says that during 2010-2015 internal investigations headed by Senior UNC officials, investigated the allegations of human trafficking.
Mr. Maharaj says he can confirm that he assisted in these investigations.
He says he can also confirm that the allegations were true and correct.
Mr. Maharaj says individuals who now hold high office in the UNC, on a regular basis provided a regular supply of Venezuelan and Colombian prostitutes to persons within and outside of the party.
He says he was approached on several occasions to utilize this service all of which he refused.
Dr. Moonilal criticized Mr. Maharaj for his comments.
He also pointed fingers at the Prime Minster saying he was seen liming with persons linked to human trafficking at a recent carnival fete.
Dr. Moonilal was speaking at a media conference hosted by the UNC yesterday.