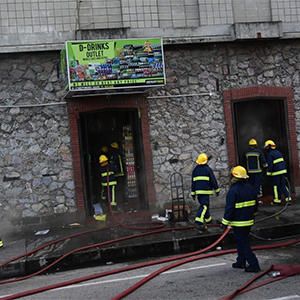 Fire officials are expected to return to scene of the fire at the Express House in Port of Spain today to determine the cause of the blaze.
Persons had to be evacuated from the building yesterday after a fire broke out at the D-Drinks Outlet.
Fire officials say at around 4.30 pm they received a call that smoke had been observed coming from the building.
Tenders from the Wrightson Road headquarters responded.
Personnel in the building were evacuated.
There were no reports of injuries.
Fire officers cut the electricity supply to the building and advised that its backup generator powers should not be used until all checks were completed.
This led to the cancellation of the TV6 news last night, as well as other operations being affected.
There was no official determination on how the fire started.