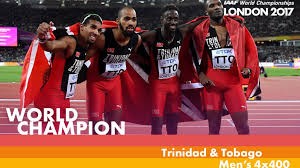 Team Trinidad and Tobago is expected to return to the country today with gold and bronze medals from the 2017 IAAF World Championships in London.
Yesterday this country's 4x400m men's relay team captured the gold in the last race of the event
The team of Jarrin Solomon, Jereem Richards, Machel Cedenio and Lalonde Gordon brought it home in a time of 2 mins 58.12 seconds.
It was Mr. Gordon's anchor leg performance that propelled Trinidad and Tobago to the top of the podium.
Team T&T upset the United States who had to settle for silver in 2 min 58.61seconds, with bronze going to Great Britain.
After the race, excited members of the team said bringing home gold was a great achievement.
The team is expected to arrive in the country this afternoon.