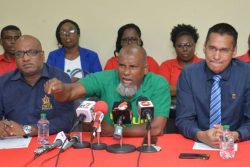 Trade unions are ganging up on the government following its announced decision to shut down the oil refinery at Petrotrin.
In a show of solidarity yesterday, jtum members said they will not allow the government to proceed with this plan.
An already planned day of rest and reflection on September 7th is said to be more significant now that the refinery is to be closed.
Approximately 2,600 jobs are to be affected by the planned shutdown.
All 1700 jobs in the refinery will be terminated.
One of the member organisations of JTUM is the Communication Workers Union.
Secretary General Clyde Elder told a news conference yesterday government has declared war on labour.
Mr. Elder said the government's failure to pull back would have serious repercussions.
President of the Farmers Union, Shiraz Khan, said the unions are not prepared to take what the government is dishing out and September 7th will be just the start.
And the president of the Trinidad and Tobago Unified Teachers Association Lynsley Doodhai warned that on the first Friday of the school term, there will be trouble.