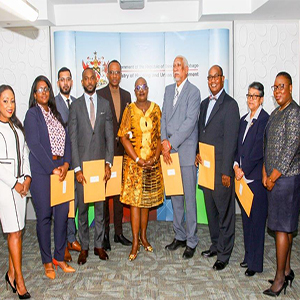 The Tobago House of Assembly is to be represented on the new board of the Housing Development Corporation.
During a short presentation ceremony yesterday Minister of Housing and Urban Development, Camille Robinson-Regis, said while Noel Garcia has once again been appointed to serve as Chairman of the board, Tobago will have a place.
This appointment is the third for Mr. Garcia, who along with 6 others received their instruments of appointment.
Minister Robinson-Regis told the board members, some of who are serving their second term that they are expected to significantly surpass the standard set by the last board.
According to her, the HDC board is one of the most coveted boards in the housing and construction sector.