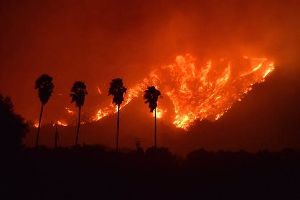 Some 27,000 residents were forced to flee their homes in the middle of the night as a fast-moving wildfire ripped through southern California.
Several thousand homes are under mandatory evacuation in the cities of Ventura and Santa Paula, some 70 miles (115 km) north of Los Angeles.
Firefighters warned the fire was moving so fast they were unable to contain it.
Fanned by high winds, the fire swept through 31,000 acres (12,500 hectares) in a matter of hours.
One person died in a traffic accident while trying to flee the fire and one firefighter was injured, officials say.
They also said 150 structures had been destroyed, and more than 260,000 people were without power.
Some 500 firefighters were working through the night to tackle the blaze, but fire chiefs admitted they were fighting a losing battle.
"The prospects for containment are not good. Really, Mother Nature is going to decide," Ventura County Fire Chief Mark Lorenzen told reporters.
(BBC)