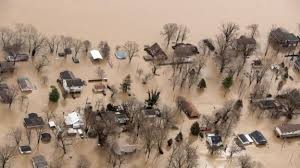 At least five people have been killed as a strong storm system caused flooding, hail and high winds in central and southern US States over the weekend.
Officials say three people died in Kentucky as tornadoes ripped through the state.
A 79-year-old woman was killed in her home, and two other victims were recovered from submerged vehicles.
Emergencies were declared in several states as heavy rainfall continued to cause widespread flooding on Sunday.
The storm system moved through parts of Ohio, Tennesse, Kentucky, Missorri and Arkansa.