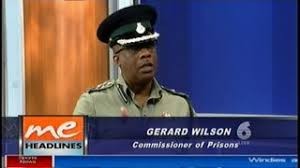 The Commissioner of Prisons says a new unit has been put together to deal with high risk prisoners.
Commissioner Gerard Wilson says the unit is now necessary to treat with the issue of gang warfare behind prison walls.
He says specially trained officers are located at the new unit to treat with the prisoners.
The Prison Commissioner says because of financial constraints the new unit operates on the same prison compound as the regular holding facilities.
He says this is an attempt to improve on security at the nation's prisons.
Speaking with Newscenter 5 yesterday Commissioner Wilson also noted that the Prison Service remains committed to the security of Trinidad and Tobago.