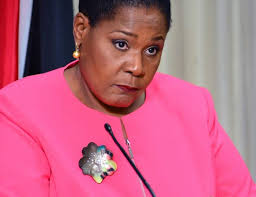 The Speaker of the House of Representatives, Brigid Annisette George, has given Paula Mae Weeks her instruments of election.
The retired justice is to become the first female President of the Republic.
Her visit to the Parliament yesterday came days after the Electoral College gave her the nod.
Speaking with the media after the hand over Ms. Weeks said she is still to learn the workings of the Presidency, but she will learn.
She also intends to put some focus on finding solutions to the troubling crime problem affecting young people.
Ms. Weeks, who takes office in March, is also ready to do what is necessary to get the right people in the right positions.
She said she is pleased that as a female president she would be standing together with other women like the Speaker and the Senate President, who are doing honourable work.
Paula Mae Weeks will replace Anthony Carmona as Head of State, when his term ends.