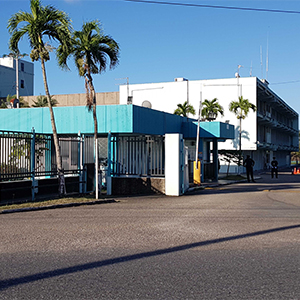 A clash between workers of the Water And Sewerage Authority and the police at the St. Joseph headquarters.
Scores of protesting workers were locked out when they tried to gain entry to the compound yesterday morning.
The workers are demanding outstanding sick leave bonuses.
Their efforts to get closer to management were resisted by police officers attached to the Water And Sewerage Authority.
The national union of government and federated workers represents the employees.
Official Russel Mohammed addressed the workers telling them what management's offer has been.
The workers are saying the chief executive officer of the utility is no help.
WASA has issued a statement saying it is committed to paying the workers the bonuses.
The company said it recognises that the sick leave bonuses are part of the terms and conditions of employment of daily paid workers.
WASA feels the action yesterday was triggered by other situations, including a recent transfer.