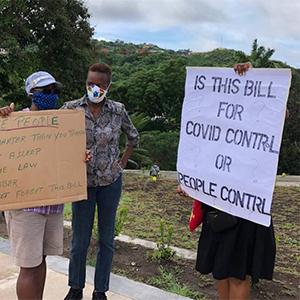 Groups and individuals against the Grenada government's Coronavirus Control Bill are seeing dangers ahead.
They want the controversial bill not just withdrawn but scrapped.
Protesters yesterday gathered outside the Parliament building, carrying placards, which showed their displeasure with the piece of legislation.
The Coronavirus Control Bill, 2020 seeks to regulate the containment of the spread "in the interests of public safety, public order, and public health".
The leader of the opposition National Democratic Congress Franka Bernardine, told reporters yesterday the proposed legislation "is oppressive"
Inside the Parliament Prime Minister Dr. Keith Mitchell called on people to understand what is at stake.
He feels some of the language being used to criticise the bill is troubling.
The Keith Mitchell government has withdrawn the Bill and says it has started consultations.
The Bill was to be debated yesterday.