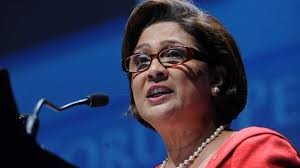 Proposed unity talks between the Pandays and Opposition Leader Kamla Persad Bissessar have broken down even before they have started.
Mikela Panday, the daughter of the founder of the UNC, has stated publicly that she will not accept the conditionality for a meeting with Mrs. Persad-Bissessar.
It is said Mrs. Persad-Bissessar wants Ms. Panday to stop her criticisms of the United National Congress, and instead focus on the ruling party and its management of the country's affairs.
Speaking with Newscentre 5 yesterday, Ms. Panday, who writes a newspaper column, found the condition unacceptable.
The man who has been pushing for a return of some stalwarts to the UNC, Dr. Fuad Khan yesterday agreed with Mrs. Persad-Bissessar.
He was also displeased with Ms. Panday's decision to go public with the UNC leader's condition for meeting.
Dr. Khan also said he no longer wants play the middleman.
He apologised to Mrs. Persad-Bissessar.
But Mikela Panday is somewhat baffled by the Barataria/San Juan MP's position.
She wants to know why Dr. Khan is upset.
Ms. Panday, a former MP, said she would have to speak with Dr. Khan to determine what his issues were.