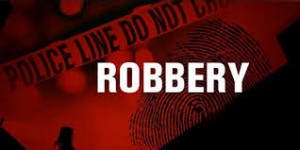 Police is now hunting four robbery suspects.
The incident reportedly occurred on Monday night at the best fortune house Chinese restaurant at Monroe Road, Cunupia.
Footage from surveillance cameras shows the owner and customers being robbed and assaulted at around 8:35 pm.
In the video recording the armed men are seen pointing guns at customers ordering them to sit with their hands in the air.
The men then emptied the handbags taking cash and cellphones.
The owner was also made to hand over his earnings.
The footage also shows a male customer attempting to stop the gunmen by throwing a chair.
However he was overcome by the assailants and was kicked and ­beaten on the ground.
The men then escaped.
Central Division Police are continuing investigations.