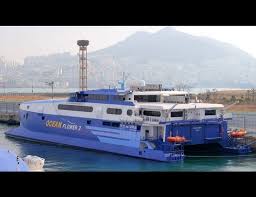 The contract for the Ocean Flower 2 is terminated.
Confirmation of this was made by Works and Transport Minister Rohan Sinnanan this morning.
The passenger ferry would have been servicing the Inter Island Sea Bridge.
However Minister Sinannan says the company did not live up to the contractual arrangement.
Minister Sinannan made it clear that government and the port have a duty to protect taxpayers.
Speaking on TV6's Morning Edition program a short while ago, Minister Sinannan further denied that money was paid for the rental of the vessel.
The Minister also dismissed talk of impending board terminations.