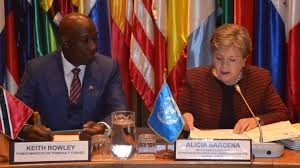 Prime Minister Dr. Keith Rowley is seeking help from the United Nations Economic Commission for Latin America and the Caribbean (ECLAC) in the area of economic research.
Prime Minister Rowley made the appeal during his meeting with executive secretary of ECLAC, Alicia Barcena at the commission's headquarters in Chile, on Monday
The meeting centered around discussions on how ECLAC could partner with Trinidad and Tobago with a view to utilizing its research capabilities to assist the country in making more data-driven decisions in the formulation of social and economic policies.
Prime Minister Rowley told Ms. Barcena and her executive team he is hoping that ECLAC technicians will assist his government, particularly in the area of developing the country's social support systems.
He said he wants to ensure that the money allocated by the parliament continues to benefit those for whom it is intended and that the programmes his government creates are the best options available.
Dr. Rowley also told the commission that it has a role to play in Trinidad and Tobago's push towards diversification.
He said Trinidad and Tobago is experiencing economic shock because of the reduction in revenue from the hydrocarbon sector.
He noted that when this happens there is a clamour for diversification.
Dr. Rowley said the question now is can the country preserve that quality of life with its current revenues and current policies.
This is where he said he would like ECLAC to assist with its research as the country moves to expand its economic base.
According to the Prime Minister, Trinidad and Tobago has the ability to produce much more goods and services than the population can absorb and therefore it is imperative that it looks towards other markets.