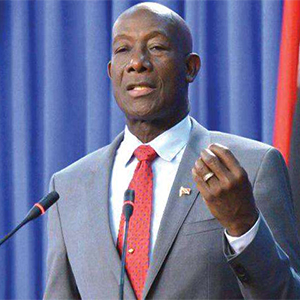 Prime Minister Dr. Keith Rowley says he too is hurt by the crime situation now plaguing the country.
He says every life lost to crime is of concern to his government.
Over two hundred and forty people have been killed in this country so far this year.
At the peoples national movement meeting in the San Fernando West constituency last night dr. Rowley advised that people should choose wisely
Dr. Rowley also pointed fingers at the relatives of criminals' say they cover up wrong doings.
Opposition Leader Kamla Persad Bissessar is not impressed by the address of the Prime Minister.
She says he is clearly unable to address the pressing issues affecting the country.
She says at no time last night did he stand his ground to confront the problems terrorizing citizens.
According to Mrs. Persad Bissessar the United National Congress has offered anti-crime plans, economic transformation plans, healthcare plans, education plans and revenue generation strategies.
But she claims Dr. Rowley has repeatedly refused to consider them.
She says the country cannot tolerate his laziness anymore.
In her response to Dr. Rowley's address last night Mrs. Persad Bissessar says he failed to focus on issues such as murders, home invasions, rapes, robberies, high food prices, unemployment, and increasing costs of electricity and water.
She says instead he boasted that they fired over, 10000 workers at Petrotrin, was a success and declared that over 4500 Covid deaths was an achievement.