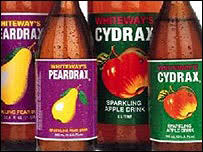 Peardrax and Cydrax beverages are a staple in many Trinidad and Tobago households at Christmas time.
The pear and apple ciders can be found on almost every supermarket shelf here and have become a defining part of T&T's culture.
What many people may not know is that although Peardrax and Cydrax are distributed here, the brands were not locally owned, that is until recently.
As of December 7th, Caribbean Distribution Partners Ltd, a jointly owned subsidiary of Agostini's Ltd and Goddard Enterprises Ltd, created history by becoming the first Caribbean company to own the two brands.
Chief Executive Officer of Vembev Marc Mouttet said this is a very proud moment for CDPL. Mr. Mouttet said these nostalgic brands, rich in West Indian tradition, are now Caribbean-owned and they are now destined for international expansion.