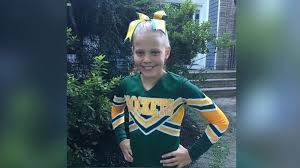 The parents of a 12-year-old girl who took her own life are suing the school district in the US state of New Jersey.
They say the school failed to prevent bullying.
Dianne and Seth Grossman say the school ignored repeated complaints that their daughter was being targeted.
The legal action says Mallory was sent text and snap chat messages calling her a "loser", making fun of her looks, and prompting her to end her life.
Rockaway Township School District declined to comment on the lawsuit.
Filed on Tuesday, nearly a year after Mallory's death on June 14th 2017, the lawsuit accuses Copeland Middle School of failing to take significant action to prevent bullying.
It alleges that the school's response was to force Mallory to hug one of her alleged bullies, in lieu of disciplinary action, and accuses the school district of discouraging her parents from making a formal complaint.