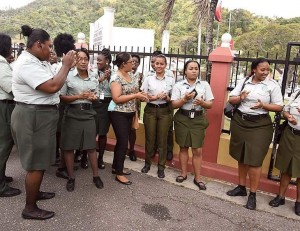 The National Union of Government and Federated Workers vows to fight the dismissal of Litter Wardens. Reports say regional corporations began issuing termination letters to the wardens on Monday.
The workers are being represented by the NUGFW but the union does not yet have full recognition. Shop Steward for the workers Carl St. Rose says the corporations issued the letters on the verge of the workers becoming fully represented.
Mr. St. Rose said the same situation occurred when the Peoples Partnership government came into office five years ago. Several aldermen and chairmen from various regional corporations have informed Newscentre 5 that they are not responsible for the Litter Wardens as they did not hire them.
The officials also say the letters were issued by the Ministry of Local Government through corporations. When contacted yesterday Minister of Rural Development and Local Government Franklyn Khan said this is the normal process for contract workers.
Minister Khan is also quoted, as saying there must be some misunderstanding, as he believed the union would have been informed of the procedure. Nevertheless Mr. St. Rose is warning the authorities that there will be no rest if workers are forced to go home.
The union representative says the jobs of Litter Wardens still exist in the corporation and it will be a breach of natural justice to give those jobs to other persons.