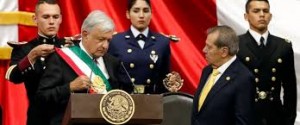 Mexico's newly- sworn in President, Andrés Manuel López Obrador has ordered the creation of a Truth Commission to re-examine one of the country's most notorious unsolved crimes.
He wants the kidnapping and presumed murder of 43 trainee teachers who disappeared after they were attacked by cartel gunmen and corrupt police officers re-examined.
The President promised the commission will investigate all angles of the incident.
The incident was one of the most infamous crimes committed during the government of President López Obrador's predecessor.
The veteran leftist was sworn in as Mexico's President on Saturday.
The 65-year-old took the Oath of Office in the Lower House of Congress pledging to bring about a radical rebirth of Mexico.
Families of the missing students repeatedly expressed their frustration with the official investigation, which was based partly on confession obtained through torture, and which was not allowed to examine the activities of the Mexican army on the night of the attack.